BESTMETRIX BUSINESS INTELLIGENCE
Reporting, Analytics & Insights to Drive Business Performance
Insights to Help You Win The Moments That Matter
BestMark is a recognized innovator in the field of customer experience analytics and our technology is no exception.
We understand that to maintain an edge in today's competitive environment, customer-committed companies need timely, actionable business intelligence.  Our solutions help you win the moments that matter. Every day.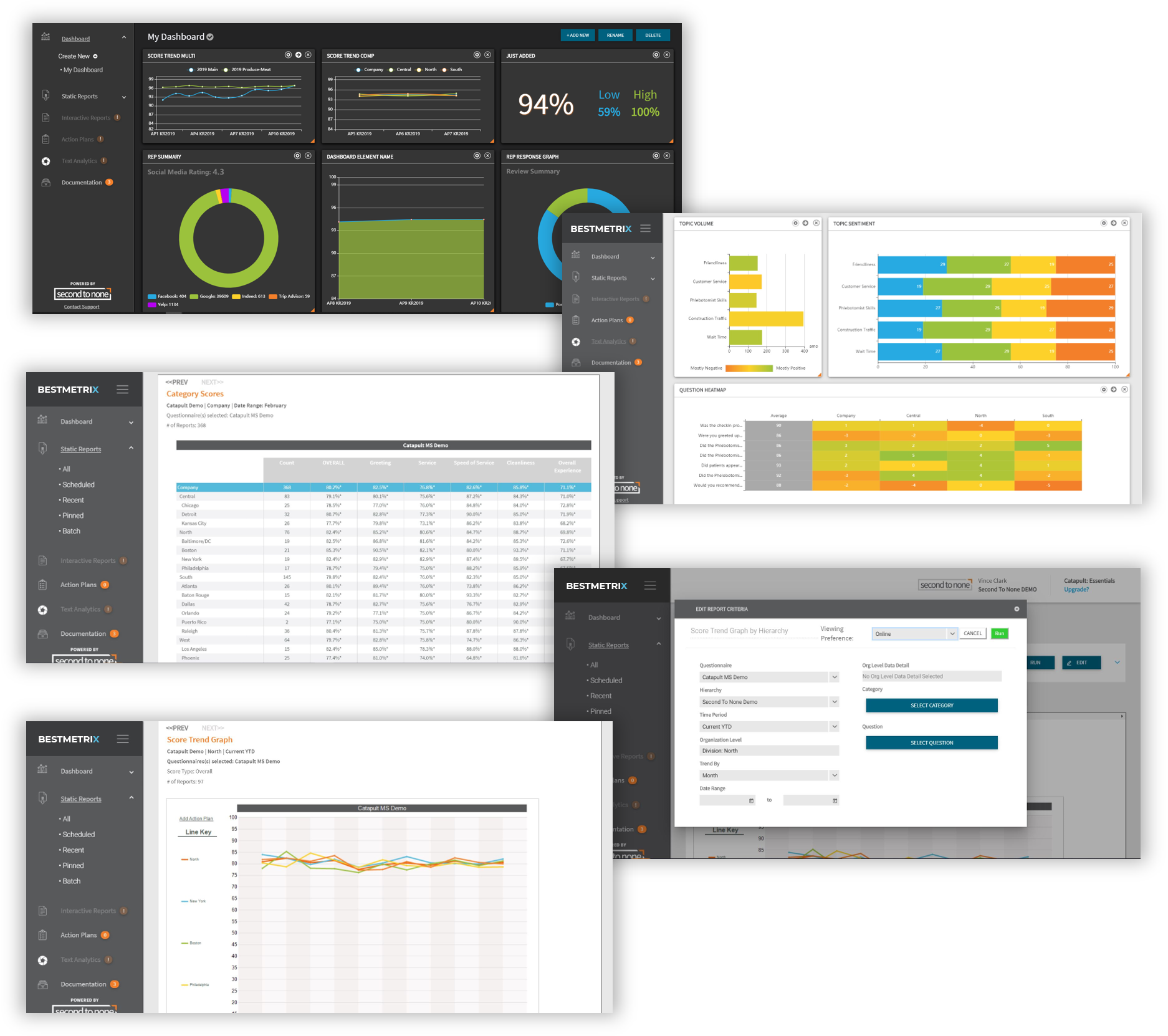 We'll partner with you to develop a program that uses BestMetrix to create, update and track data at all levels within your organization for performance feedback, coaching, recognition and development of action plans.
Combined with our proven customer-experience-enhancing methodologies, your program will deliver the actionable insights you require to meet your objectives, supporting your key stakeholders as they make informed business decisions.
BestMetrix Business Intelligence Tools
Our proprietary cloud-based insights platform gives you real-time access
to a robust suite of reporting and analytics tools:
Interactive dashboards
Performance scorecards
Dynamic query drill-down
Individual customer experience reports
Competitive intelligence reports
High-impact standard reports
Microsoft Excel data exports
Trending reports
Power BI interactive reports
Custom alerts
Optional action plans
Pull data into your own systems from feeds and/or our API
Unprecedented Insight into the Customer Experience
BestMetrix keeps all stakeholders informed about what customers are experiencing — providing rapid, clear and deep understanding of the often hidden and complex nature of a situation, problem or un-tapped opportunity.
A Powerful Coaching Tool
We believe that all employees want to perform well at their jobs. Employees want to learn new skills, develop their capabilities and boost their knowledge and careers. An effective leader wants to play a role in making this happen, but how?
Individual customer experience reports provide field leaders and supervisors with a play-by-play account of the customer experience within hours of it occurring. You can truly view the experience from the customer's shoes, and with that, managers can effectively and efficiently deliver the coaching that both the employee and the customer deserve.
Unmatched Flexibility
In leading customer-centric organizations, everyone from the CEO to the cleaning staff takes responsibility for delivering a differentiated customer experience. BestMetrix's powerful flexibility empowers leaders across teams, departments and divisions to make informed decisions and continually improve the customer experience.
Make a Calculated Business Move
See how BestMetrix can help you enhance the customer experience — and your competitive edge.